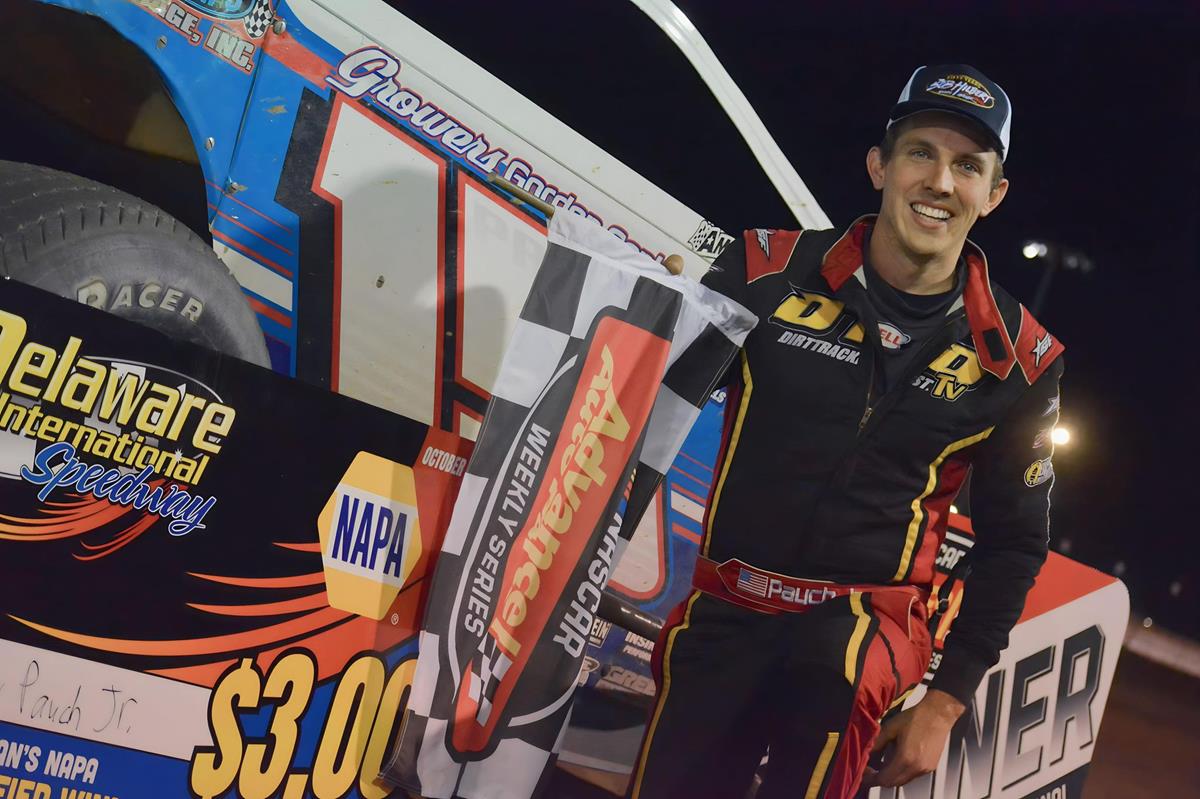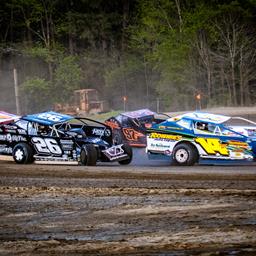 10/22/2023
Delaware International Speedway
---
Success: Late Decision Pays Off for Pauch Jr. in Delaware International Victory
DELMAR, DE – A successful change of plans.
Billy Pauch Jr. got up on Saturday planning to compete in his home state of New Jersey at New Egypt Speedway. When rain lingered in the Garden State and New Egypt's event was canceled, Pauch Jr. loaded up his Kid Racing No. 15 and towed south to Delaware International Speedway.
The Sussex County oval returned to action after a summer full of rained out programs with 127 race cars filling the pit area. Saturday's program was postponed from late September.
Despite arriving after the drivers' meeting and fighting fuel issues, Pauch Jr. prevailed in a competitive 25-lap Millman's NAPA Auto Parts Modified feature, completing a late pass of Brandon Grosso for a $3,000 payday.
"I had a really good car," offered third-generation driver Pauch Jr. "I moved up and was surprised how good we were rolling the middle. It was enough to get around Brandon."
Grosso, like Pauch Jr., planned to compete at New Egypt – a track owned and promoted by his father Ricky – but hustled to Delaware after the rainout.
The Belle Mead, N.J., driver launched off the pole via the post qualifying redraw and paced much of the 25-lap event.
Grosso first faced a challenge from reigning track champion Jordan Watson before a scrape with the inside wall flattened the left-front tire on Watson's No. 1J. Ultimately, Watson spun from contention and headed to the pits for a tire change.
Pauch Jr. then emerged as Grosso's primary challenger.
Moving a lane off the bottom groove, Pauch Jr. swept past Grosso with five laps remaining and powered to the victory.
Grosso, nursing a loss of brakes in the Grosso Homes No. 32, settled for second. Matt Stangle of Neshanic, N.J., rallied late for a third-place finish. Danny Bouc of Pipersville, Pa., rallied from 10th to fourth despite a flat left-front tire from lap seven to the finish. Ryan Watt of Boyertown, Pa., completed the front five.
Joey Amantea broke into Rapid Tire USAC East Coast Victory Lane in the 25-lap main event, the second appearance of the season by the wingless 360 Sprint Cars at the half-mile oval.
Once in front, Amantea drove away from the field in convincing fashion for the $2,000 top prize. The Mount Pocono, Pa., driver started in sixth position.
Adam White of Laurel, Del., drove from ninth to win the 20-lap Blue Hen Dispose-All Crate 602 Sportsman main worth $1,000. Kenny Miller III, Briggs Danner, Steven Drevicki and Preston Lattomus completed the front five.
White, using the extreme inside line, emerged from a three-car tussle with Brandon Watkins and Jordn Justice to take the lead inside the final five laps.
Ethan Bill of Pittsgrove Township, Pa., rode the high lane to second, followed by Laurel, Del.'s Justice, Harrington, Del.'s Watkins – who led the opening 14 laps – and 12th-starter Greg Reed of Seaford, Del.
Derek Magee of Millsboro, Del., dominated the 20-lap Crate Late Model main event, leading the entire distance for a $1,000 top prize over Nick Davis, Matt Hill, Trevor Collins and Ben Scott. The event ran caution-free.
Southern Delaware Vintage Stock Car 12-lap winners in a combined feature event were Allan Austin (Modified) and Cale Pettyjohn (Sportsman).
A dramatic 12-lap Little Lincoln feature saw Nathan Austin take the win after leader Melvin Joseph Jr. spun in turn two on the penultimate lap. Jordan Herbert and Kirk Lawson trailed Austin at the finish.
Robert Smith topped the 12-lap Delaware Super Truck nightcap over T.J. Williams and Jerry Hill.
The 12-lap Delmarva Charger main event went to Chris Myers, who won convincingly over Derek Swafford.
Racing resumes at Delaware International Speedway on Nov. 17-18 with the Delaware State Dirt-Track Championships featuring two days of racing on the clay oval headlined by the Millman's NAPA Auto Parts Modifieds ($7,000 to win), Stockley Speed & Supply Super Late Models ($7,000 to win) and Small-Block Modifieds ($5,000 to win). A complete schedule will be released in the coming days.
A website for Delaware International Speedway is live at www.delawareinternationalspeedway.com. Keep posted as the site is updated daily.
Like "Delaware International Speedway" on Facebook for more.
Delaware International Speedway is located at 37854 Sussex Highway Delmar, DE 19940. A new office phone number exclusively for the dirt track has been set up: 302.567.8294 and e-mail delawareinternationalspeedway@gmail.com.
RESULTS SUMMARY – DELAWARE INTERNATIONAL SPEEDWAY SATURDAY, OCTOBER 21, 2023
Millman's NAPA Auto Parts Modified Feature Finish (25 laps): 1. 15-BILLY PAUCH JR[3]; 2. 32G-Brandon Grosso[1]; 3. 6S-Matt Stangle[4]; 4. 6B-Danny Bouc[10]; 5. 14W-Ryan Watt[12]; 6. 91-Carson Wright[9]; 7. 1K-Sean Weiss[8]; 8. 1J-Jordan Watson[2]; 9. 30W-HJ Bunting[11]; 10. 119-WB JAMES[20]; 11. 157-Dave Dissinger[6]; 12. 05-Sean Metz[18]; 13. R2-Rusty Smith[14]; 14. 75-Craig Moore[19]; 15. 48-Drew Simmons[22]; 16. 74S-Caleb Scott[26]; 17. 74W-John Willman[21]; 18. 28-Thomas Solderich[24]; 19. 14L-Logan Watt[13]; 20. 33-Louden Reimert[5]; 21. 71-James Hill[7]; 22. 5B-Brett Ballard[15]; 23. 14S-Dave Shirk[16]; 24. 8-Norman Short Jr[17]; 25. 5-Tommy Wilkins[23]
Did Not Start: Steve Davis
Ad-Art Sign Company Top Spec Small-Block Bonus ($250): W.B. James
Rapid Tire USAC East Coast Sprint Feature Finish (25 laps): 1. 88-Joey Amantea, 2. 23M-Kenny Miller III, 3. 39-Briggs Danner, 4. 19-Steven Drevicki, 5. 23B-Preston Lattomus, 6. 27-Alex Bright, 7. 18J-JT Ferry, 8. 11-Mike Thompson, 9. 7-Ed Aiken, 10. 45R-Brett Rose, 11. 67-Jason Cherry, 12. 17J-John Swanson, 13. 117-David Johnson, 14. 2-Brandon Hires, 15. 5B-Bobby Butler
Blue Hen Dispose-All Crate 602 Sportsman Feature Finish (20 laps): 1. 15-ADAM WHITE[9]; 2. 14B-Ethan Bill[5]; 3. 94-Jordn Justice[7]; 4. 4W-Brandon Watkins[3]; 5. 21-Greg Reed[12]; 6. 43-Michael White[10]; 7. 16S-Tom Moore Jr[13]; 8. 38-Dylan Swinehart[18]; 9. 97-Matt Smith[1]; 10. 88-Ryan McKinney[25]; 11. 1*-Zac Weller[8]; 12. 80-Frank Holmes[23]; 13. 25-Ashley Metz[16]; 14. 52-Calvin Musser[19]; 15. 91-Luke Bunting[2]; 16. 7M-Jarod Millman[15]; 17. 59-Colin Cox[14]; 18. 10-Devin Dodson[20]; 19. 37-Chris Martinez[27]; 20. 39-Richie Walls Jr[22]; 21. 17T-Kris Thompson[26]; 22. 89-Mike Toth[24]; 23. 02-Greg Humlhanz[4]; 24. 09-David Jenkins[17]; 25. 7-Paul Mancini[21]; 26. 14T-Joe Toth[6]; 27. 94J-Jacob King[11]
Did Not Qualify: Justin Zook, Jeff Marker, Jay Wimbrow III, Brandon Reed, Kaleb Steele, Rodney Cordrey, Art Workman, Greg Nailor
Crate Late Model Feature Finish (20 laps): 1. 96-DEREK MAGEE[1]; 2. 92-Nick Davis[2]; 3. 84-Matt Hill[4]; 4. 72-Trevor Collins[6]; 5. 80-Ben Scott[5]; 6. 81-Steven Axtell[7]; 7. 51-Jerry Barker[3]
Southern Delaware Vintage Stock Car Modified Feature Finish (12 laps): 1. 3A-ALLAN AUSTIN, 2. 24-Luke Dill, 3. 20-Roscoe Clough, 4. 71-Chris Phillps, 5. 8-Eddie Collins, 6. 4-Dave Schamp, 7. 34-Terry Chaney
Southern Delaware Vintage Stock Car Sportsman Feature Finish (12 laps): 1. 1S-CALE PETTYJOHN, 2. 15S-Jamie Schirmer, 3. 32S-Maddy Jefferson, 4. 56S-Mike Harmon, 5. 58S-Donald Porter, 6. 71S-Garrit Reagan, 7. 66S-John Gladman
Little Lincoln Feature Finish (12 laps): 1. 14A-NATHAN AUSTIN[6]; 2. 47-Jordan Herbert[2]; 3. X-Kirk Lawson[4]; 4. 55-Bryan Piercy[7]; 5. 25-Andy Olenik[9]; 6. 65-Dylan Betts[8]; 7. 49-Mel Joseph, Jr.[5]; 8. 16-Bunky White[3]; 9. 10-Tyler White[1]
Delmarva Charger Feature Finish (12 laps): 1. 67-CHRIS MYERS[2]; 2. 72-Derek Swafford[3]; 3. 44-Randy Gallaway[5]; 4. 37-Josh Dayling[7]; 5. 10-Craig Kelly[4]; 6. 62-Randy Merritt[8]; 7. 04-Tyler Hottle[6]; 8. 5G-Garren Morris[1]
Delaware Super Truck Feature Finish (12 laps): 1. 01-Robert Smith[3]; 2. 84-TJ Williams[2]; 3. 69-Jerry Hill[11]; 4. 34-Scott Trice[4]; 5. 68-Tony Guinta[10]; 6. 80-Dale Elliott[8]; 7. 2-Steve Portillo[5]; 8. 28-Angel Carroll[9]; 9. 16-Nick Rust[12]; 10. 77-Tim Williams[6]; 11. 223-Chocolate Rocket[1]; 12. 89-Thomas Jackson[13]
Did Not Start: Tim Quay
---
Back to News